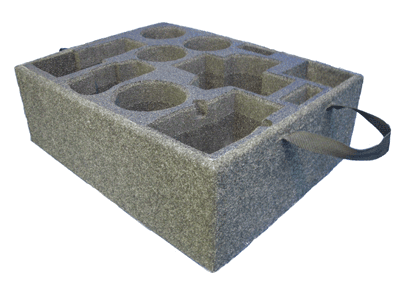 Our foam works begins with the selection of only the finest materials available. The various levels of densities and firmness in the materials we use are manufactured by facilities that use precise formulas to achieve the proper consistencies that we require for production. We feel that maintaining a strict adherence to quality of raw materials determines the durability of our finished product. Quality foams come at a cost but when protecting valuable equipment those costs usually are warranted.
Each day we receive cases and inserts manufactured by our competitors to refurbish; many times foam dust is present over all of the equipment, cavities are crushed and only remnants are present.
No job is too small or big, our tools allow us to competitively produce to meet each jobs requirement. We can produce foam inserts to fit into a Innerspace Case or any case you can provide specifications for.
Complete our request for quote form and we will respond within 24 business hours or view our Pelican Custom Foam Inserts to see available options.